Drag & Drop Email Builder
Design your Email Templates without writing a line of code. Modules Composer is one of the easiest online email builders to use for email design production.

Create unlimited designs based on the 400+ modules you have available on Infinity. Keep in mind that every new template will be included on Infinity.

Get your membership with lifetime access.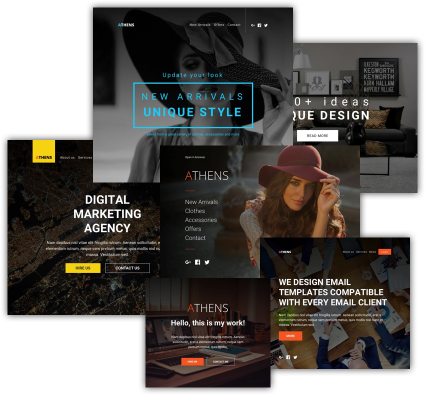 So... what exactly is Modules Composer
Modules Composer is a simple but powerful email builder. Select from a huge variety of predefined modules and create beautiful email templates. Export & upload in Mailchimp, Campaign Monitor & 28+ ESP's your custom made email template. You can do it simply and easily on your own without coding skills.
Every month at least one new template will be released and be available on the Infinity template which will include all modules from all our templates.
Main Features

Drag & Drop modules
Customize pre‑designed modules and build a fantastic newsletter.

Google Fonts
Choose from 900+ Google Fonts and make your emails look more beautiful with great typography.

Content Management
Style or add text, links, images and background images for all email clients including Outlook.

Clean HTML
Easy to understand and change if necessary through an HTML editor.

ESP Exports
HTML/ZIP export compatible with Mailchimp, Campaign Monitor + 28 more ESP's.

Responsive Emails
Great looking email templates on desktop and mobile devices.

Retina Ready
Sharp graphics with no blurry pixels.

External Image Support
Upload your images on any server or media library and simply replace the URL's.
How to use Modules Composer
Style your template
This is what you see when you enter on Modules Composer! On the top bar you can always switch between Desktop/Responsive view. You can customize your template even on Responsive view, send a Test Email, Transfer your template on your team, Save/Update and Export your template on your desktop.
Once you select "Style Template" there are 3 available options. General Settings, Module Settings and Show/Hide Elements. On General Settings you can customize the following:
Body background image
Primary Font (System fonts + 900 Google fonts)
Secondary Font (System fonts + 900 Google fonts)
Body title
Preheader text
Outer Width (800 - 600)
Inner Width (780 - 540)
Affect All Modules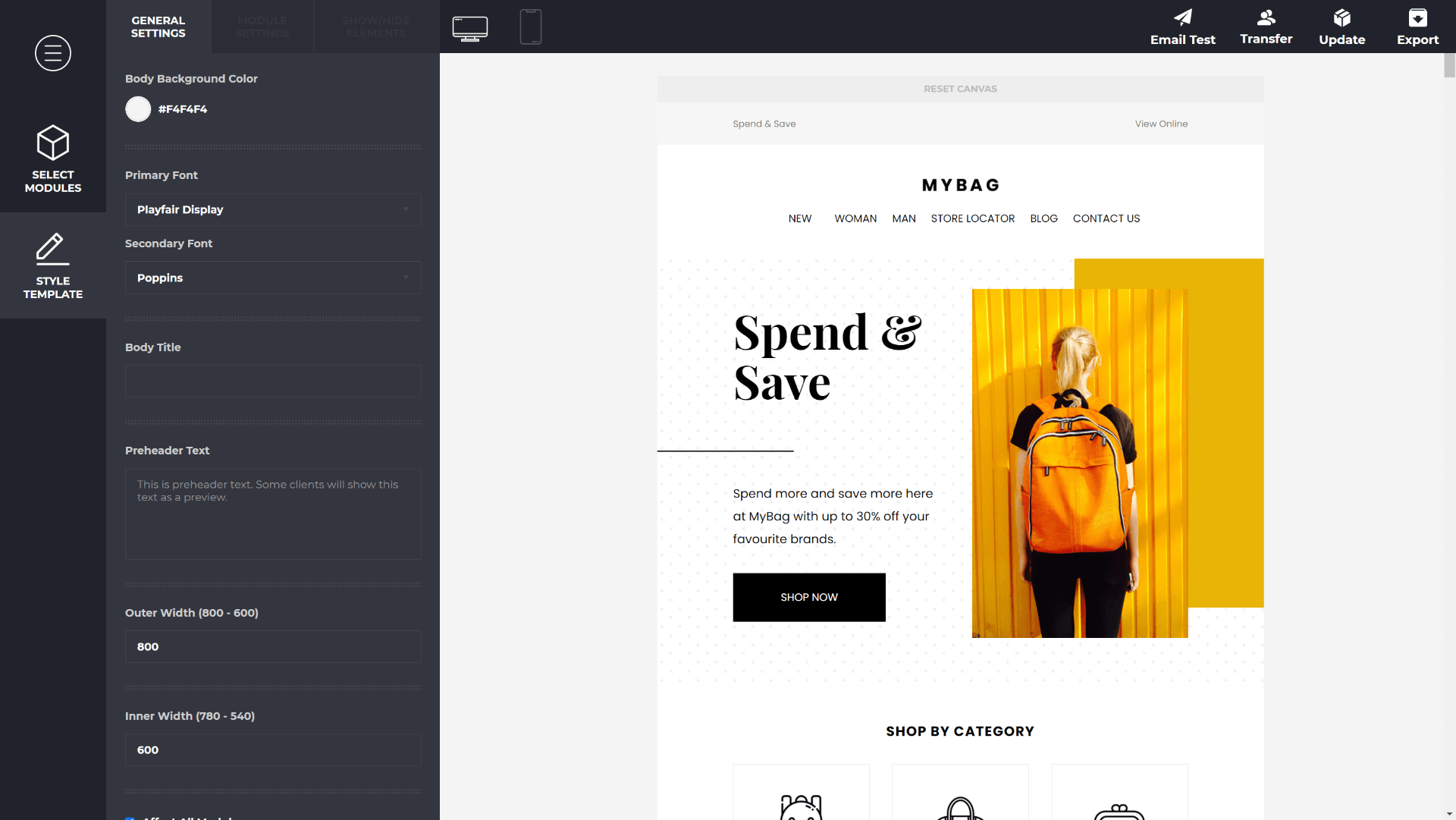 Select Modules
You can select modules through categories like "Preheader", "Menu", "Header" etc.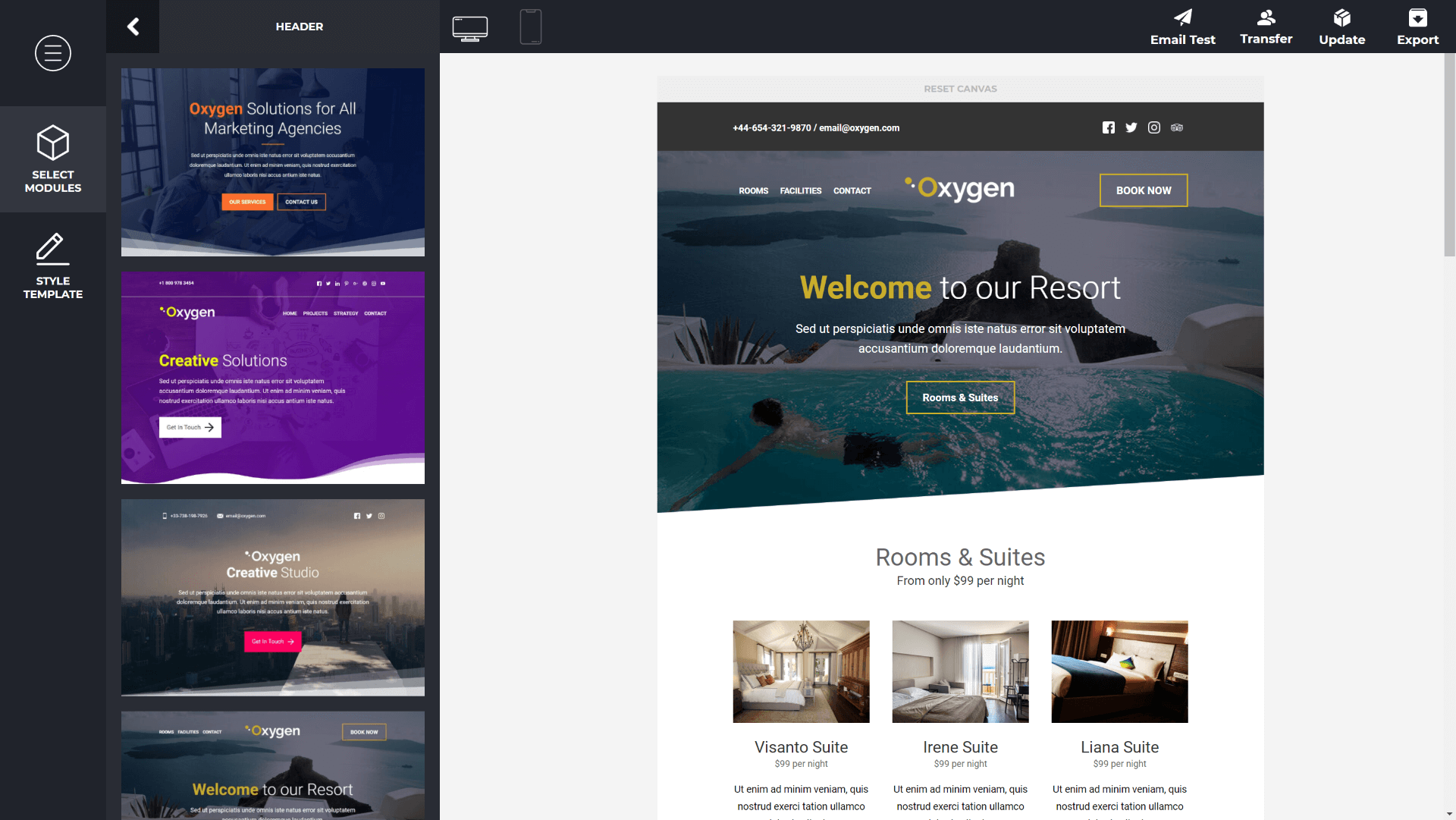 Modules Settings
On Modules Settings you can customize everything! Background images, fallback colors, background colors on any element like buttons, style your typography, add content like text & images, add border radius on buttons, images and control the spacing between elements.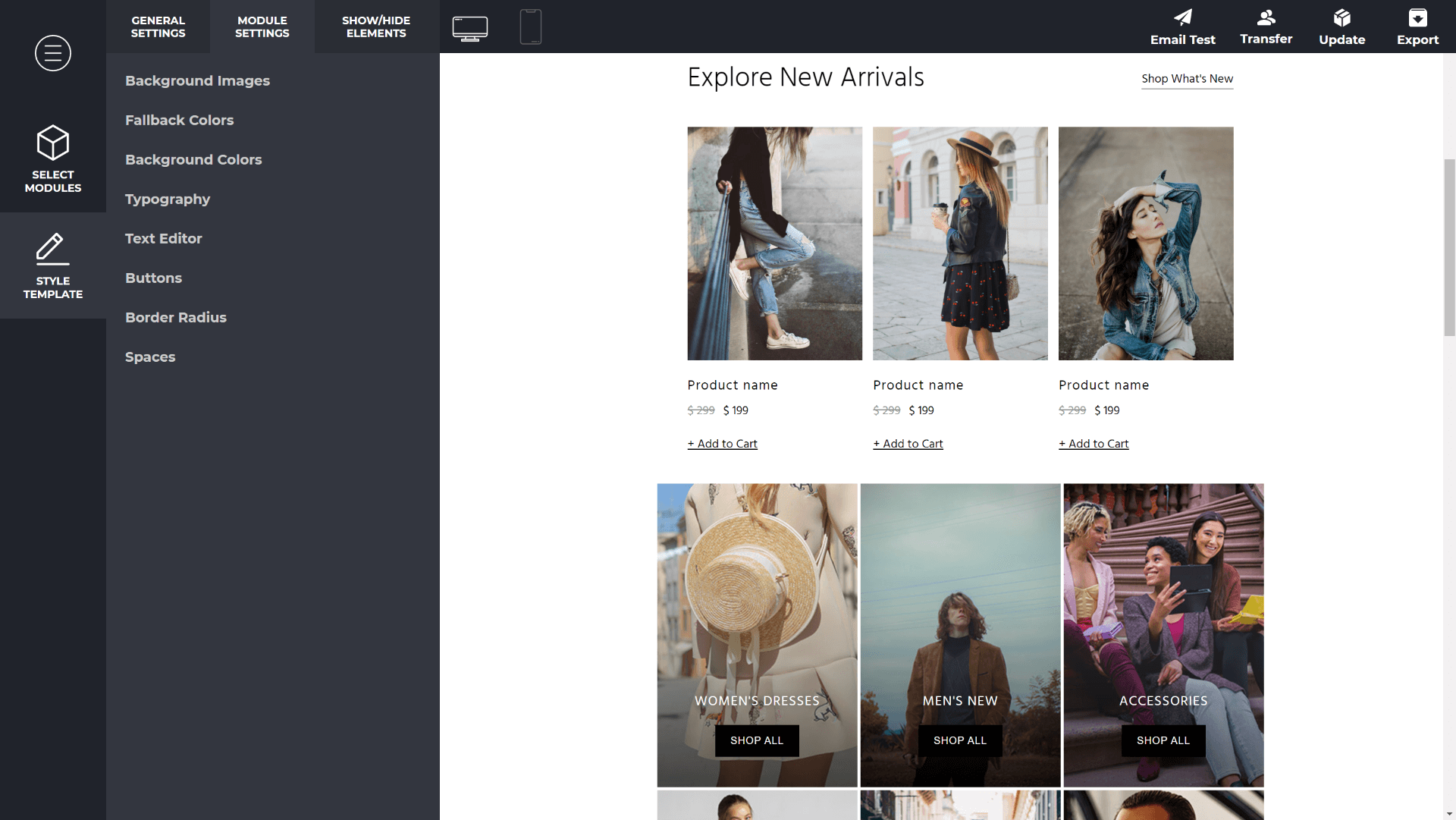 Background images
Simply replace the url of the default background image and the new image will appear instantly! We suggest to use Mailchimp media library, Dropbox or Imgur as free solutions for hosting your images.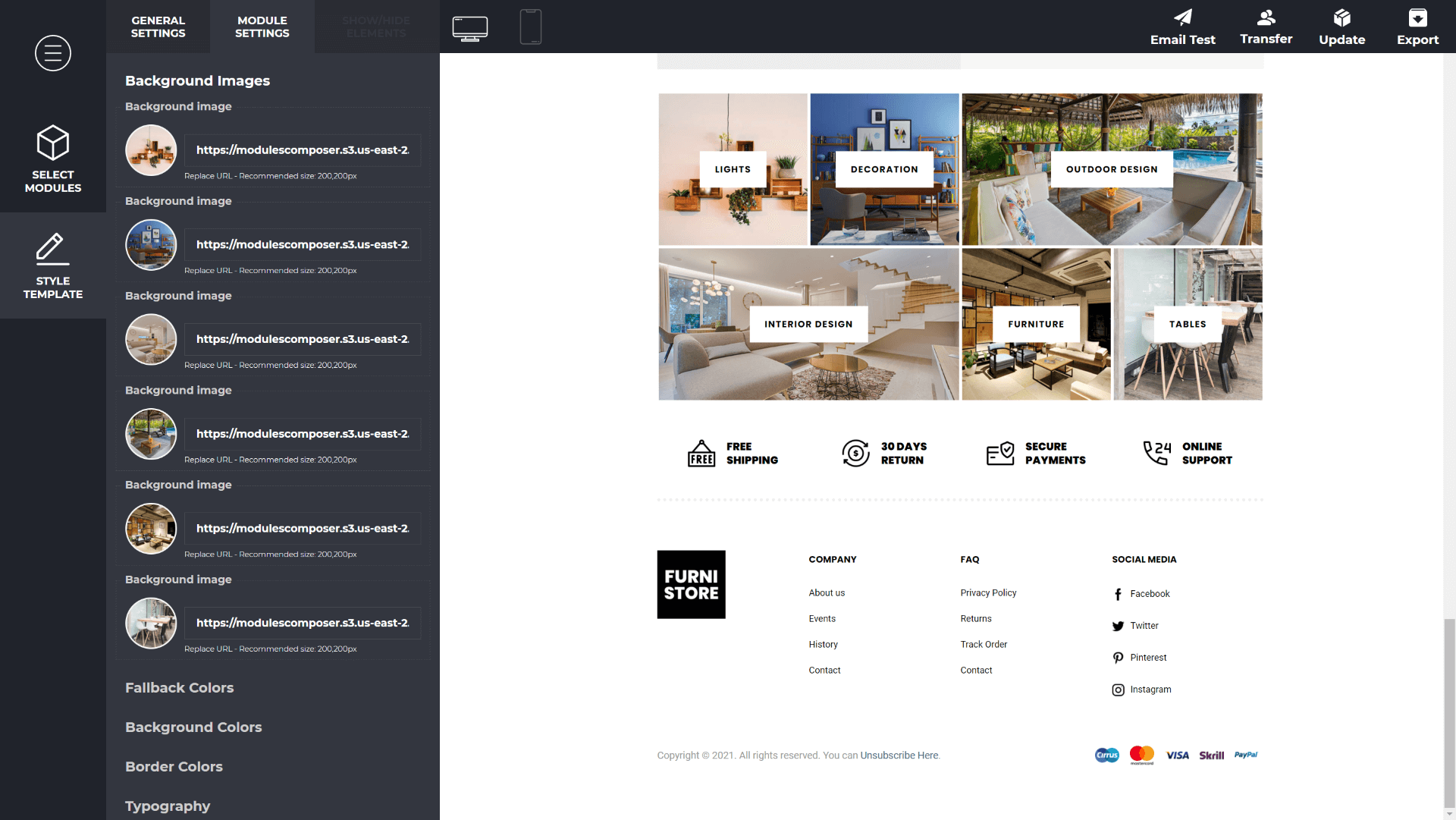 Color Picker
Use the color picker in order to change the default colors of modules, buttons etc.
Typography
Here is the place where you can style the Headlines, Sublines, Paragraphs and Buttons.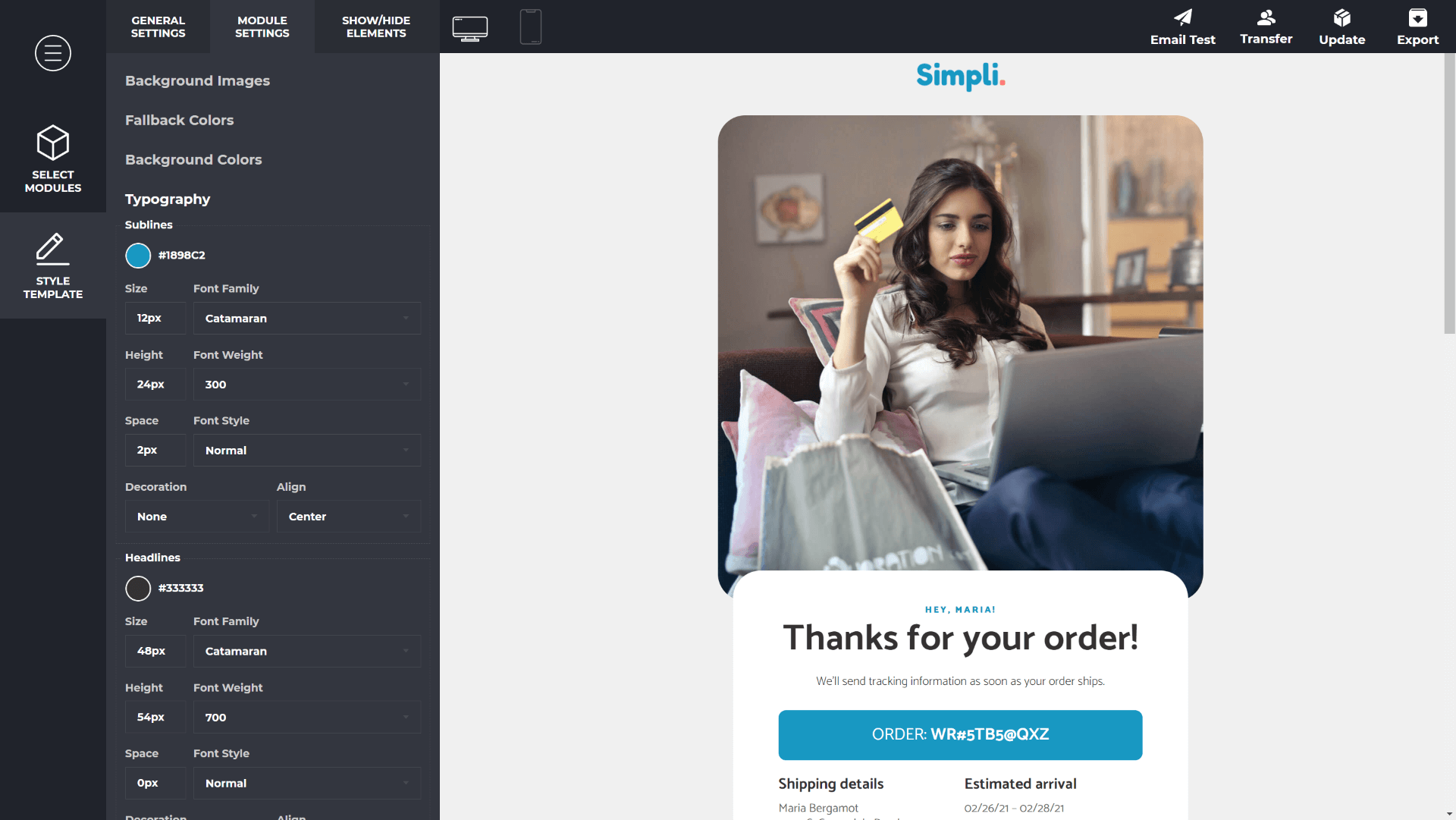 Text Editor
Add content on your template and update the text on Headlines, Sublines, Titles, Subtitles, Paragraphs etc.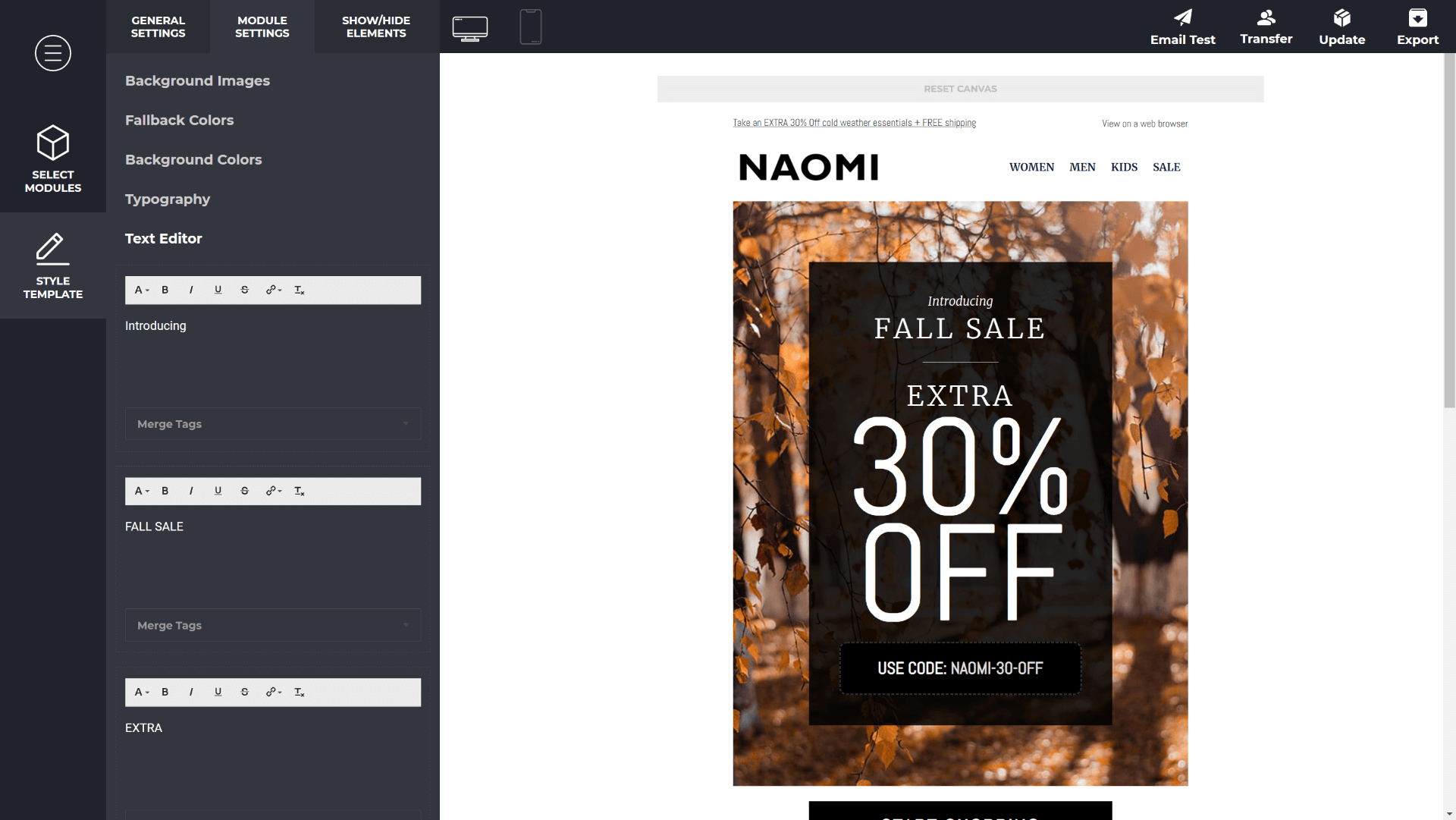 Images
Simply replace the url of every image and the new image will appear instantly! At the moment we don't support image hosting but we will for Yearly & Lifetime plans soon. We suggest to use Mailchimp media library, Dropbox or Imgur as free solutions for hosting your images.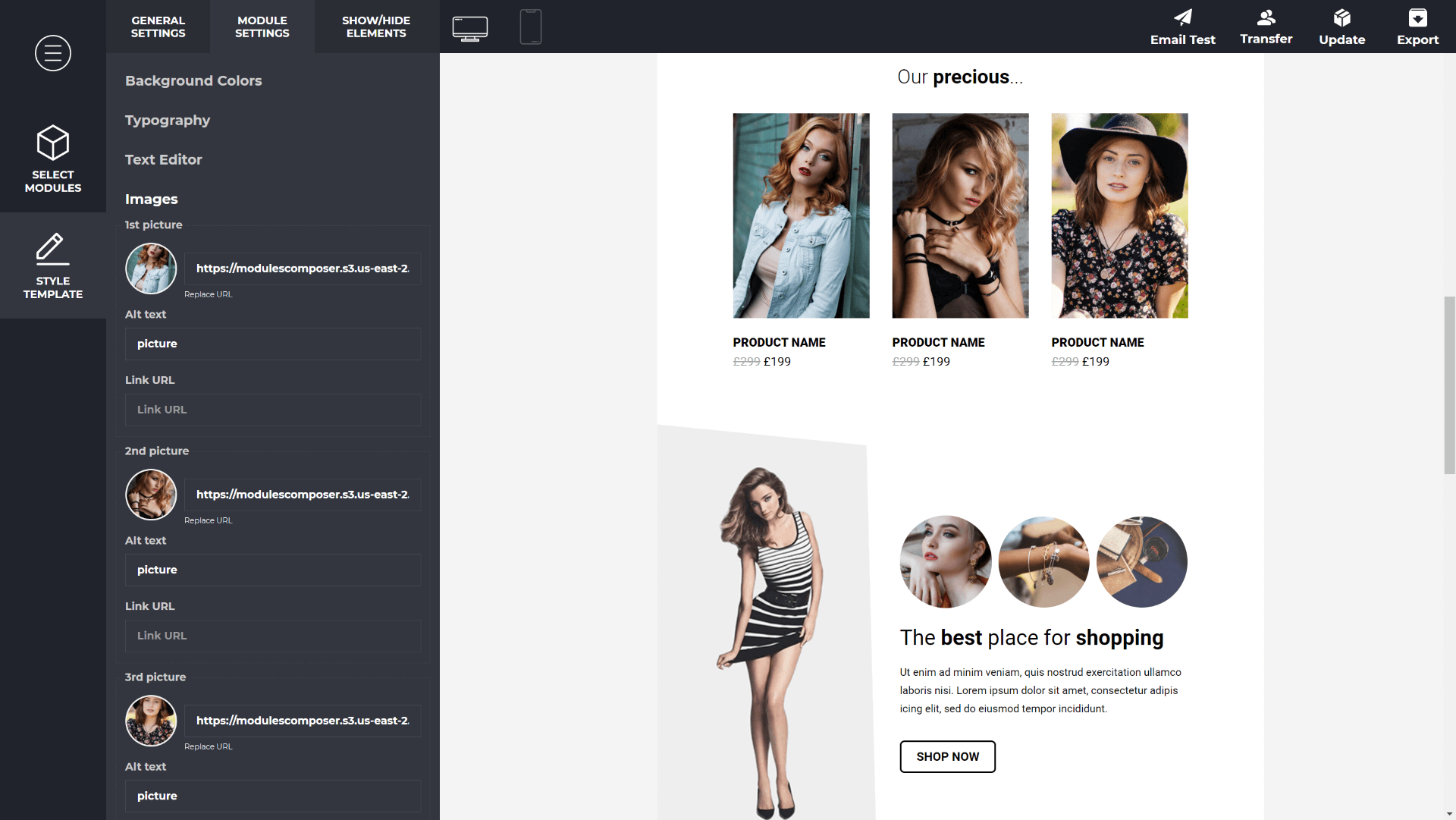 Buttons
This option is only for buttons. Change the content of every button by typing your text and then press enter!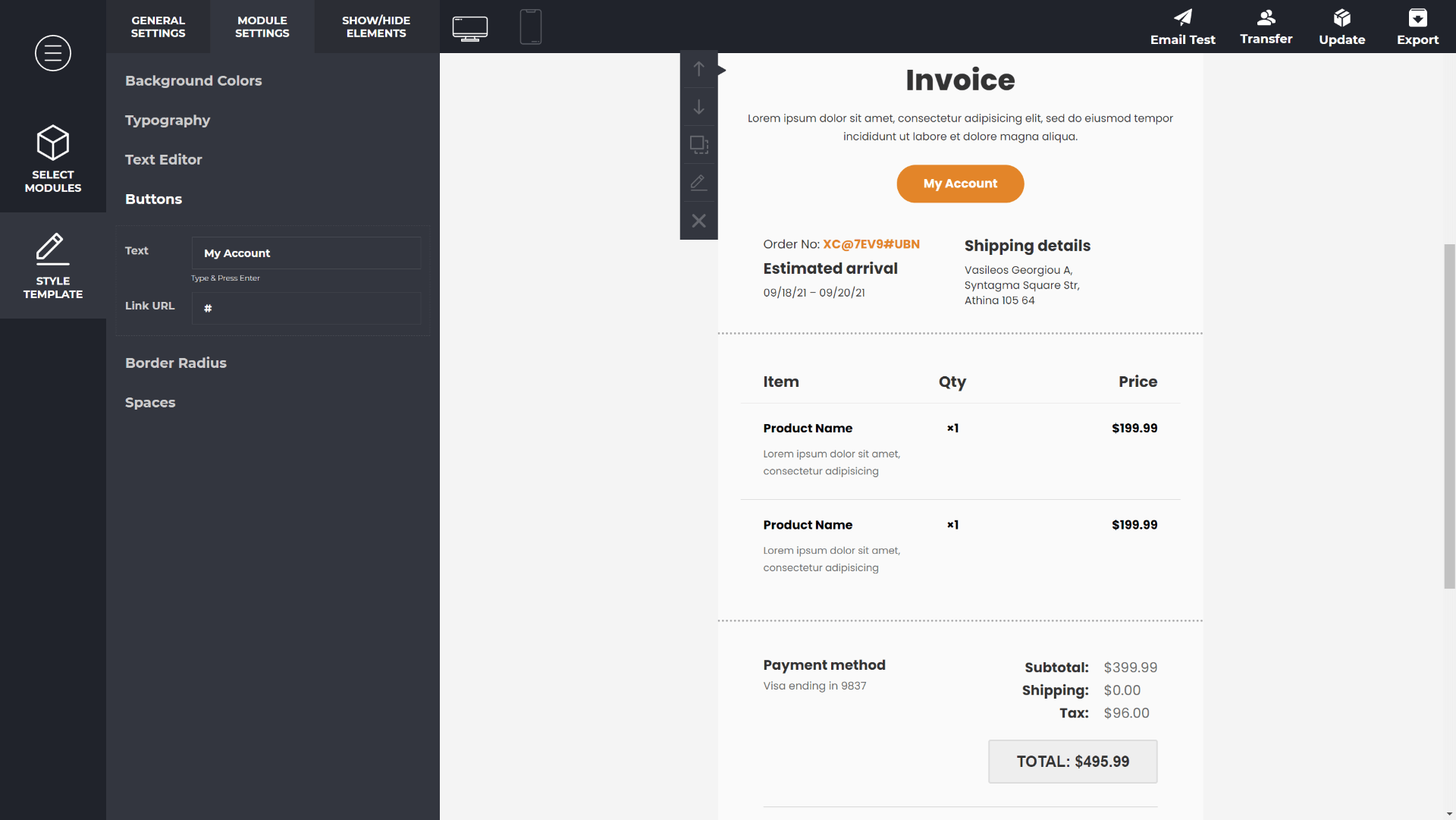 Border Radius
Add border radius on buttons and images! You can choose between some default options or add your custom value.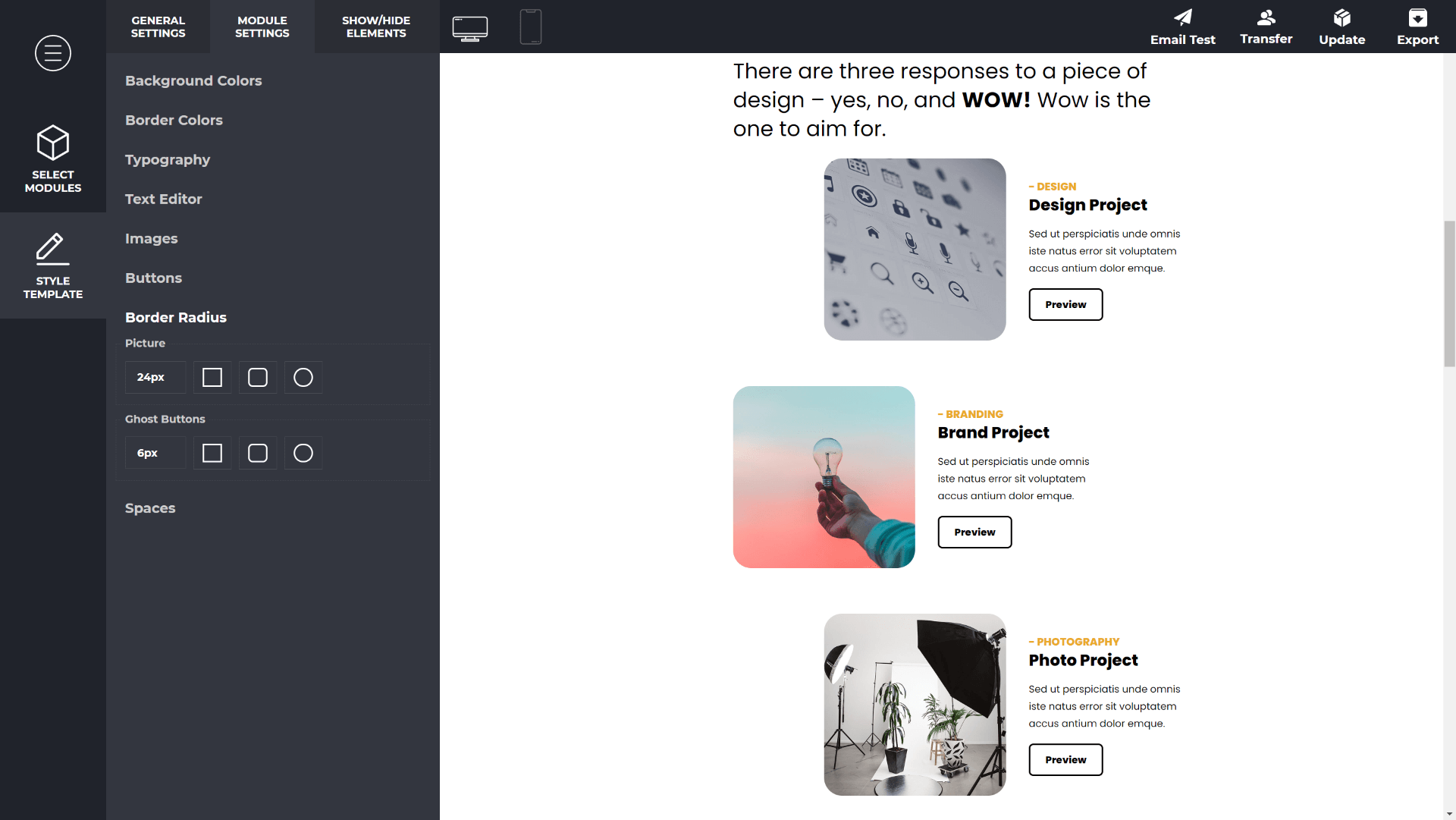 Show/Hide
Simply hide any element you think it's not necessary or show it later.