Online Email Builder
You can choose from a large variety of email templates compatible with
Mailchimp, Campaign Monitor + 26 Email Service Providers
. Multipurpose Sets of
100+
Modules & Single templates will help you promote your products and services with full success!
Modules Composer
With Modules Composer you can use all modules of every email template and create unlimited combinations. All you have to do is to choose the modules you prefer & save unlimited templates.
Drag & Drop Modules
Choose a set of 100+ modules or a single template. Simply drag & drop modules from a huge variety of categories like "Menu", "Header", "Services", "Products" etc and build a fantastic newsletter.

Huge variety of modules
You can create unlimited templates based on the 100+ modules you have available for every template. Imagine the endless choices you have with a lifetime subscription with full access to all email templates.
All modules tested
All modules are tested through Email on Acid in order to be sure that you will not face any display issues. Also we test our products through desktops, laptops, smartphones and tablets in every available platform.
Maximum compatibility
Our templates are compatible with all major email clients including Outlook. And YES our email templates support background images even on Outlook (Windows desktop version) and outlook.com
Outstanding Support
We are always at your disposal for any kind of problem you may face. Keep in mind that no matter what it is, it will be solved as soon as possible and we will offer you the best advice.
Modules Composer
Choose the modules that suit your needs, download the template to your desktop and upload it on MailChimp, StampReady or Campaign Monitor for further content update.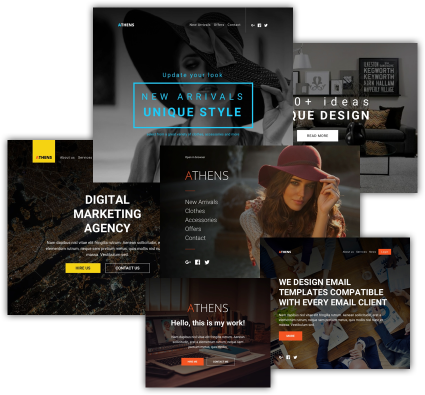 What our clients say
I loved the many module options that you have. Either for product or service. Clean and user friendly design.
Really great template, easy to use, extremely good support, probably the best I have had after buying a product from Envato. Keep up the good work.
Get full access to our templates for €39!
Honestly is there any other email template marketplace out there who can offer as much as we offer for only €39 yearly...?
Our templates compatibility
Our email templates are compatible with MailChimp, StampReady & Campaign Monitor. With HTML with no tags available you can manually customize your template through an HTML editor and upload it on your preferred Email Service Provider.